ChMS & Website Events Integration
Step 1: Enter your ChMS Account Information and Connect your account:
Step 2: After Step 1 is completed, you can choose to include categories in the event sync, as well as select which Calendar View you want to sync with from the drop down:
*NOTE: While Ekklesia 360 does support importing recurring events, it does not support multi-day recurring events.
Including Categories In Event Sync:
If this box is checked, the "Properties" assigned to each event in the ChMS will by synced with "Categories" within Ekklesia 360. If there is not a "Category with the same name as a "Property" then a new "Category" will be created within Ekklesia 360.
*NOTE: Ekklesia 360 does not support duplicate Category names, but the ChMS does. Therefore, if you have multiple Properties with the same name, they will not be synced with Ekklesia 360 Categories.
Calendar View:
If you do not have multiple calendar views within your ChMS account, it will then just sync with all of your calendar events.
Step 3: Verify the sync happened correctly
Once this is finished, you will see the Events in the Events Module of Ekklesia 360 (EVENTS > Events) and they will also display on the Events Page of your Website. Ekklesia 360 will sync changes from the ChMS every 15 minutes so if you are making changes in your ChMS, it will take a little while before you will see those reflected in your Ekklesia 360 account or on your Website.
Step 4: Updating Events - In the ChMS or in Ekklesia 360?
Most changes to the events that have been synced need to be made in the ChMS. For synced events, Ekklesia 360 will not allow you to edit the data that has been brought over.
However, there are some fields within Ekklesia 360 that are not synced with the ChMS event, because there is not an equivalent filed in the ChMS.
See the screenshot below for what is Editable within Ekklesia 360's Events Module and what is editable within e360o ChMS: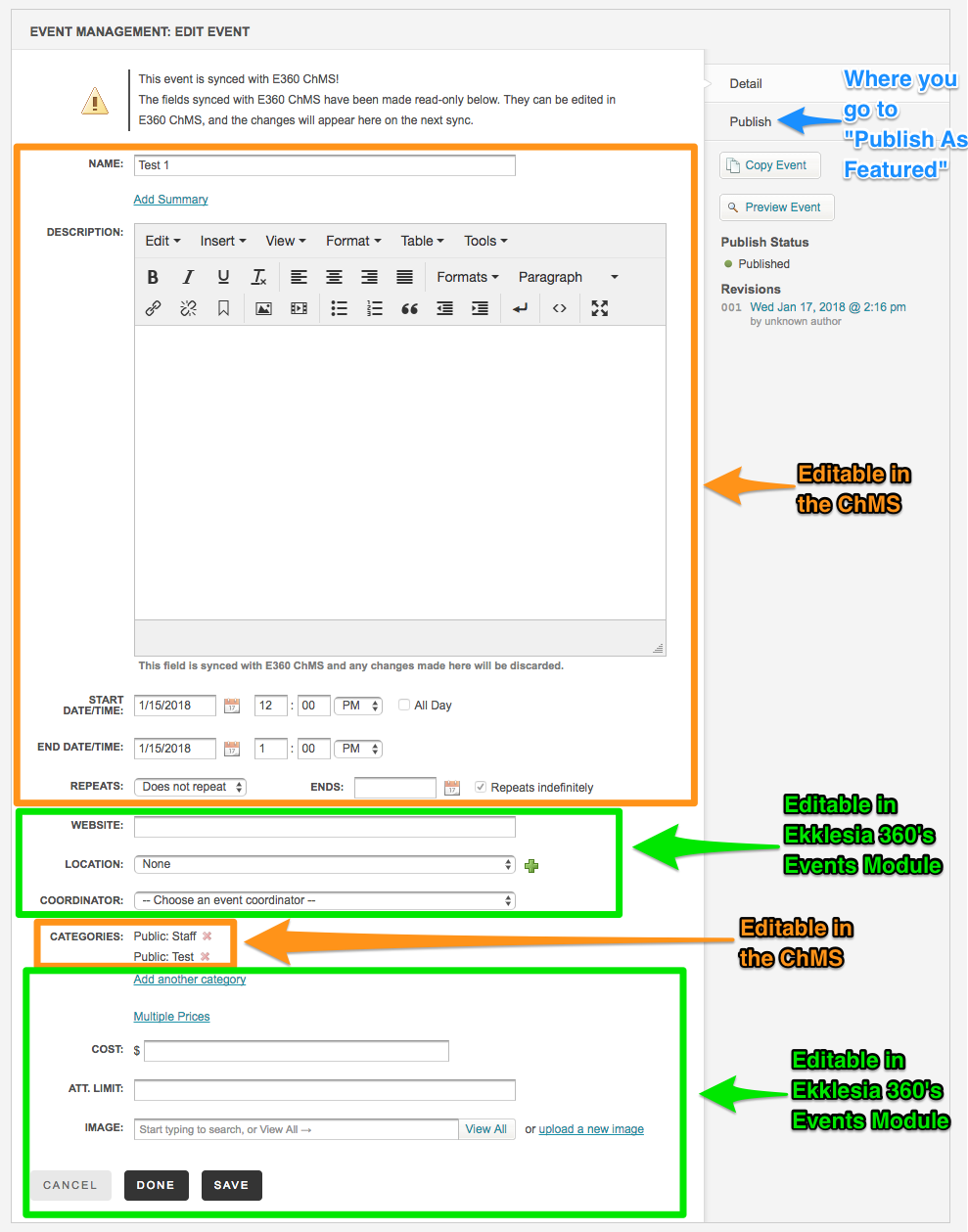 If you have any issues when setting this up, feel free to contact our support team.
You can use this same integration if you have SimpleChurch CRM, F1Go, ShelbyNext, RealTime by SiteOrganic, Elexio Community ChMS, Church Office Online ChMS, Bridge Element ChMS, EasyTithe Plus, Twenty28 ChMS, and E-zekiel ChMS.
---